Domino has launched its high-speed dual bar K600i digital inkjet printer for variable data onto labels – linear barcodes, QR codes and data matrix codes – at 150m per minute, which equates to printing 9,000 linear metres with 350,000 labels and a million different codes every hour.
Supplied in Australia by Trimatt, the Domino K600i ranges from simple alpha-numeric text and sequential numbering, to a wide range of industry standard machine-readable barcodes and 2D codes, including QR and Data Matrix codes. These are used for logistics and reverse logistics in e-commerce and online retail, for track and trace applications in the food and beverage sectors, and for security applications including brand protection, in the pharmaceutical and tobacco sectors.

The monochrome UV inkjet printer is available in seven different print width formats, ranging from 108mm to 782mm, in either a standard single print bar or the high speed dual bar configuration. It can be retrofitted onto most conventional printing presses and finishing lines. The K600i can be used with Domino's UV-curable, LED-curable and aqueous pigmented ink sets, with a high opacity white ink, a fluorescent ink and a clear varnish also available.

The single print bar prints 75 metres per minute at 600 x 600dpi resolution with optimum print density, but can print at up to 150 metres per minute. The dual bar unit demonstrated in this video prints 150 metres per minute at optimum print density, and can still print at 600 x 600dpi at up to 200 metres per minute.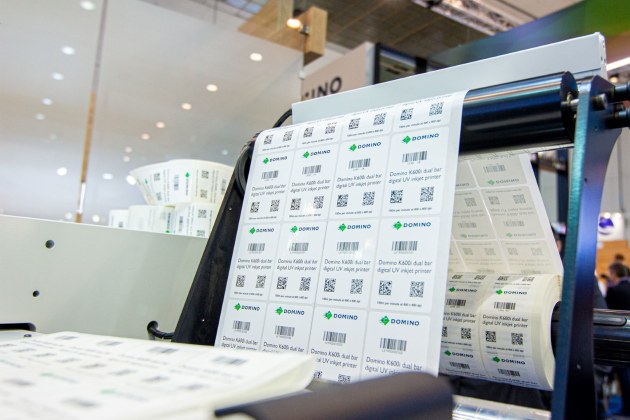 "We recognise converters have a choice from the various inkjet printing equipment suppliers in the marketplace," Easton said.
"The K600i is simple to run and maintain, offering exceptional productivity and efficiency, enabling our customers to react to this VDP opportunity and providing profitable, efficient, on-time delivery to their brand owner customers."
Jim Orford, K600i product manager from Domino Digital Printing Solutions, explains the rationale for the new high speed printer, he said, "Covid-19 has really accelerated the growth in e-commerce, a trend which is likely to remain after lockdown restrictions are lifted. Brand owners are also placing more emphasis on personalisation to engage with consumers through loyalty and promotional programmes, and to track their products through the supply chain. This has resulted in some of our label and packaging converter customers reporting a 40-50 per cent increase in the demand for variable data printed labels during the pandemic."