The Good Cup, a paper cup with integrated paper lip that has already launched in Japan, Australia, and Europe, was recently listed in TIME magazine's Best Inventions 2023 in its product design category.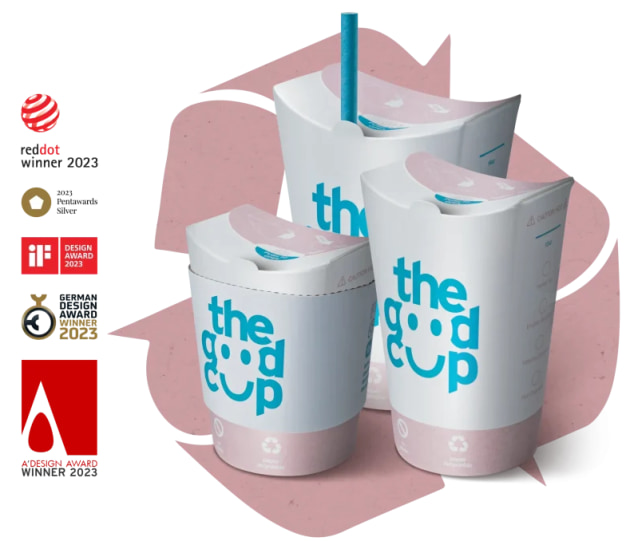 The Good Cup's many features include an all-in-one cup with paper lid; integrated sip hole for hot or cold drinks; green material such as aqueous-based coating (certified plastic-free by Flustix); is recyclable in the paper stream and home compostable; and will deliver cost- and space-savings, all while removing plastic waste.
According to the publication, the cup is one of the "impactful new products" that was selected through the magazine's editors and correspondents around the world, with special attention to growing fields like sustainability, green technology, AI, and many others.
"We are honoured to be on this very notable and distinguished list of inventions that are changing and shaping our world. Our company strives to bring sustainability to the industry of single-use products," said Cyril Drouet, creator of The Good Cup, and co-founder and managing director of Choose Planet A. 
"This segment continues to grow, and The Good Cup's compostable, certified plastic-free design will help to finally and totally eliminate plastic waste, which is a by-product of fast food and drinks. 
"This designation affirms that our mission to create a better, greener and smarter world is being noticed internationally."
PKN spoke to Cyril Drouet at Pack Expo Las Vegas, where he told us that the cup is available in Australia through Roastar Coffee Packaging.
The cup's design has already received seven other international and prestigious awards in 2023, including Red Dot, iF Design, German Design, A' Design, MICE, Anuga Innovation, and Packaging StartUp.