Sidel's design concept Aya has won a World Food Innovation Award in the category "best drink packaging design".
Sidel said the Aya design is a comprehensive, end-to-end packaging alternative for still water that is "tailor-fit" to match circular economy requirements, while improving environmental impact and industrial production efficiency.
The World Food Innovation Awards recognise and celebrate concept excellence and innovation in the global food industry. A panel of 14 industry figures chooses the winners every year.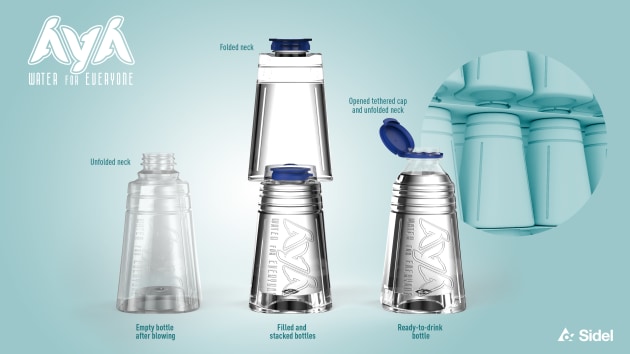 Laurent Lepoitevin, packaging design engineer at Sidel, said the award means a great recognition from the judging panel on how Aya meets sustainability requirements.
"We are honoured that, with this distinction, the WFIA appreciates how much our AYA concept contributes in terms of designing and valuing a sustainable packaging solution as a whole – optimally combining primary and secondary packaging using less packaging material in order to save on resources," Lepoitevin said.
The name Aya refers to a goddess in Akkadian mythology of ancient Mesopotamia. She is also known as Ea or Enki. Aya was, among other things, considered the master of groundwater.
Aya is a 220ml water bottle in a V-shape. With its weight of 5g, Sidel said it is designed to reduce raw materials. It is blown from 100 per cent rPET preforms. The bottle also comes with a snap-on tethered cap, which aims to further reduce plastic pollution. Brand names, logos, and legally required information can be engraved in relief onto the bottle, eliminating the need for labels, which can help facilitate bottle sorting in the recycling process.
Sidel said the Aya bottle is the first bottle concept it has released that is designed with an articulated shoulder featuring three stable positions. After the blow-moulding process, the bottle shoulder remains in an intermediary deployed position. After filling and capping, a mechanical pressure is applied on the shoulder to move it down and create the bottle's final V-shape. The bottle is slightly pressurised, and the bottle's volume is reduced. The shoulder can be deployed later, which can increase the bottle's volume. Aya also features a deep-base design to allow bottle stacking, reducing height and improving whole storage volume.
The bottles are designed to be stacked in layers on top of each other, with the recessed bottom able to accommodate another bottle's cap, ensuring stability during pallet storage and transport.
Lepoitevin said sustainability is important, and Sidel looks at packaging and equipment from a "360-degree perspective".
"Naturally, we applied this end to end approach also to the Aya concept. We always take primary, secondary, and tertiary packaging as well as their interaction with the equipment in the factory into account when designing new concepts," Lepoitevin said.
"We also consider all the impacts they create upstream and downstream in the entire value chain – always aiming to deliver the most sustainable packaging solutions onto the shelves and to the consumers."