Sidel has introduced its new Cermex FlexiPack pick-and-place case packing solution for glass bottles, which incorporates robotic technology.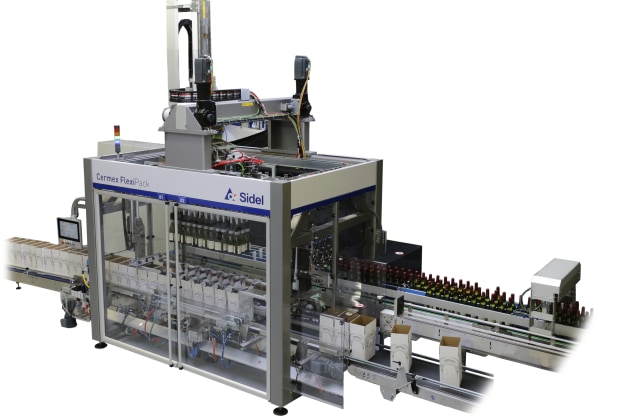 FlexiPack, which can handle between 10,000 and 18,000 bottles per hour, has been designed with high flexibility and operability in mind for each of its submodules, says Sidel. These include bottle channel infeed, numerical-axis gantry manipulator, and its regular slotted container case conveying part.
The FlexiPack can also be complemented by an upstream DiviArm positive bottle distribution system, which Sidel says allows limited pressure and zero shocks when bottles are divided into packer infeed channels, thus ensuring maximum product integrity.
According to Didier Saussereau, packing product manager at Sidel, the high level of automatic adjustments and lighter redesigned parts allow for ergonomic, reliable, repeatable, and toolless changeovers, which can be completed in less than 10 minutes.
"Cermex FlexiPack handles a wide variety of bottles' diameters and heights, always paying utmost attention to product integrity. Different bottle necks or cap designs do not represent any issue, as the end grippers can be easily and quickly changed. All movements are brushless to smooth the product flow at all times, as well as to allow fully automatic adjustments for changeovers.
"For greater accessibility and ease-of-use, the solution comes with the latest version of our user-friendly HMI (Human Machine Interface), helping operators with statistics, diagnostics, and maintenance procedures, all available through a tablet-based navigation," said Saussereau.
Sidel bills FlexiPack as an energy saver as well, due to its lightweight gripping head and its replacement of pneumatic actuators with electrical ones. This could save up to 10,000 kWh of electricity over five years, or 3.5 tonnes of carbon dioxide, the company said.