Summertime equals new beverage launch time, which can be good news for packaging suppliers.
In the case of Coca-Cola Amatil's move into cans for Mount Franklin Lightly Sparkling Hint of Natural Flavour water, Orora Beverage is supplying the 250ml slim can, sporting graphic design by Creative Platform.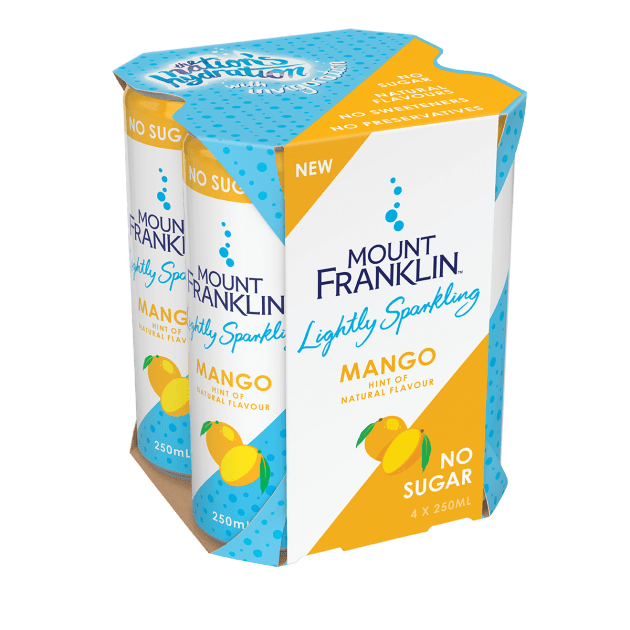 The cans are available in a 4x 250ml multipack carton supplied by folding carton converter Graphic Packaging International (GPI), which earlier this year was named CCA's 2017 Partner of the Year.
The canned range, filled at the company's Northmead, NSW facility, comprises three flavours – a hint of Lime, Raspberry or Mango with no sugar or preservatives,
CCA maintains the new slim can "helps retain the light bubbles, chills fast and stays cool, offering a refreshing sensorial experience to encourage trial and drive repeat purchase".
According to Mount Franklin's senior brand manager, Kara Morrow, for retailers, the pack size and format represents a new opportunity in this category, offering "a great tasting range of products at an affordable price point".
A survey conducted by Colmar Brunton in 2016 in Australia iindicates the sparkling water market also offers plenty of room to grow, with almost 1 in 2 people of over 1000 surveyed not having tried it in the previous 12 months.
The launch this month is supported by a multi-channel marketing campaign encouraging consumers to 'Crack open the NEW taste Australiahhhhh'. Radio hosts Hamish and Andy will front a campaign across the HIT network, and 'Mount Franklin' will stage a nationwide sampling program at key summer hotspots and activate through out of home and in-store touchpoints.