A drinks manufacturer has launched a system which turns an almost-empty cup into a self-stirring energy drink with the addition of water.
Smart Cups' technology is a 3D-polycapsule printing delivery system which can be used across a range of industries.
The manufacturer has launched a range of four energy drinks: Tropical Recess, Nerdy Lemon-T, Pucker Up Brain Boost and Magna Cum Latte.
The flavour materials are printed on the biodegradable cup, and the consumer adds water to activate it and produce the sugar-free energy drink.
The cup is made from eco-friendly, 100 per cent biodegradable plant-based plastics, and the stackable design allows for storage efficiency and cost reduction for shipping and delivery.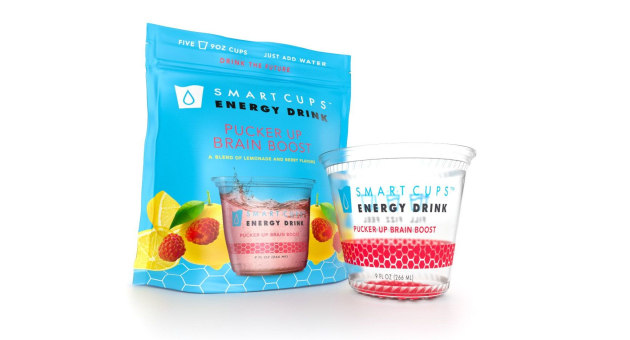 Kanik created Smart Cups in partnership with Sal Celeste, CEO of The Additive Advantage.
Additive Advantage's globally patented (US pending) technology integrates micro-capsules directly onto the surface of a substrate, which is released upon contact with a liquid solvent. This allows for the delivery of a multiplicity of ingredients in one dose.
In future, Smart Cups will be releasing additional lines of beverages including sports drinks, coffee, teas, juices, protein drinks and more.
Also, the company plans to develop a single-use water purification cup with the ability to filter contaminated water into safe-to-drink liquids.
This story was sourced from the Active & Intelligent Packaging Industry Association. To learn more: www.aipia.info.