Endeavour Group has rolled out a beer can clip reuse and recycling program in selected BWS and Dan Murphy's stores, becoming the first Australian retailer to initiate a circular scheme for the waste item.
Customers can now place their used can clips in collection units at BWS and Dan Murphy's stores. The clips are then picked up by local independent breweries such as All Inn Brewing in Brisbane, Willie the Boatman in Sydney, and Temple Brewing in Melbourne, as well as mobile canning company East Coast Canning, for reuse.
The can clip recycling program is a partnership between Endeavour Group, the Independent Brewers Association (IBA), East Coast Canning, Visy Recycling and PakTech.
"Many beer lovers are familiar with the can clips that hold four and six packs of brews together, but many don't realise that the clips are made of such sturdy material that they can be reused more than 50 times before being recycled and made into new clips," said Diarmaid o'Mordha, quality & sustainability manager, Endeavour Group.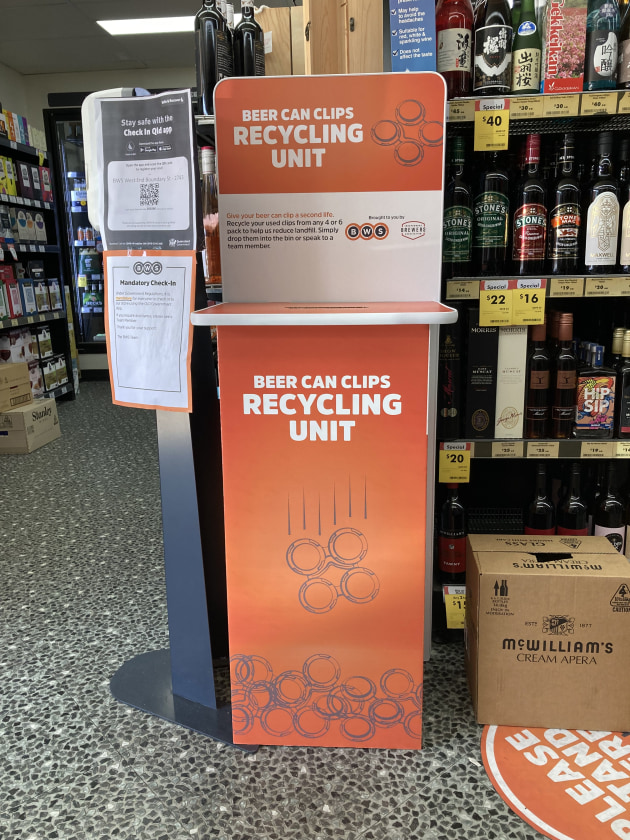 "Can clips are a great option for a circular economy, but there have been no multi-state recycling options available for customers where they can return the clips, so many end up in landfill, which is why we have initiated this industry-wide reuse and recycling scheme."
Luke Phillips, All Inn Brewing's head of sales, said it was a no-brainer to get involved with the initiative. 
"It's such a great and simple way to give something back, to not only the environment, but also our local community," Phillips said.
Once the clips have been reused by brewers to the end of their lifespan, they are sent to Visy Recycling, where they are converted into HDPE resin, which is then returned to PakTech – the company produces the can clips – so they can create more clips. 
"With a robust recycling program in place, can clips are incredibly sustainable and a great option for a circular economy," said Kylie Lethbridge, IBA CEO. 
"As a bonus, it will help our brewery members reduce costs, while making a positive contribution to the environment. 
"This new model reflects similar systems already in place in the US and Canada. It presents a great opportunity to manage and mitigate our impact on the environment, as these clips will no longer end up in landfill." 
The PakTech can clips are already made from 100 per cent recycled HDPE, which has been used by consumers and collected for recycling, such as milk jugs – already providing a second life to the materlal. 
"PakTech is excited to be partnering with the Endeavour Group, Visy Recycling and the IBA to help promote the reuse and recycling of our products in Australia," said Gary Panknin, PakTech's sustainability officer.
IBA members who are interested in reusing the can clips collected through the initiative are encouraged to reach out to the association, to their Endeavour Group merchandise manager, or their local BWS and Dan Murphy's store.