The large attendance at the recent Future of Soft Plastic in Australia technical meeting run by AIP and SPE, reflected the industry's concern about current discussions and challenges directed against 'single use plastic' packaging, not only in Australia but globally.
The technical dinner, which drew a crowd 120-strong, focused on soft plastics and the current recycling projects and programmes underway. The evening, jointly presented by the Australian Institute of Packaging and Society of Plastics Engineers, aimed to challenge the industry to be more involved in promoting a better understanding of the benefits and opportunities for soft plastics.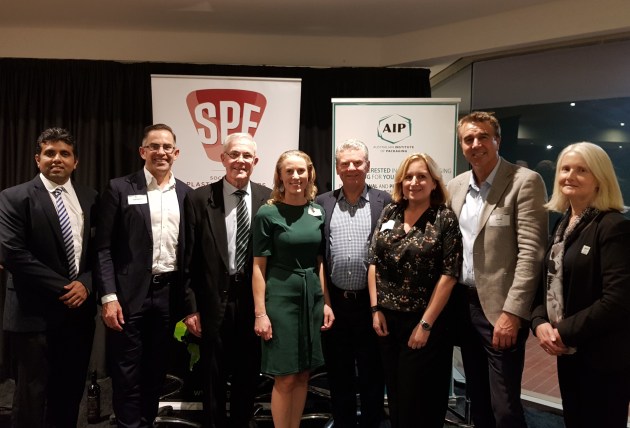 Speakers included: Fiona Baxter, Coles Group Manager Responsible Sourcing, Coles; Peter Tamblyn, sales and marketing manager Asia Pacific, Close the Loop; Mark Jacobson, marketing director, Replas; Elizabeth Kasell, director of development, REDCycle; and Anthony Peyton MAIP, director, PREP Design.
Keith Chessell FAIP, AIP Board member, APCO facilitated the evening.
"It was encouraging to hear from Fiona Baxter (Coles) of the retailer's  view of the importance of soft plastics for food handling, food safety, allergen containment, improved freshness and shelf-life, reduction if food waste and consumer convenience," keith Chessell told PKN. "Coles involvement with REDcycle over many years has provided a very effective method for its customers to recycle soft plastics. The concern for Coles with 'singl- use plastic' is to remove/replace a range small single plastic items such as plates, utensils, straws, flossing sticks, tags off clothing, broken plastic pieces, bread bag tags, to name just a few."
Anthony Peyton from PREP Design assisted the group to understand the helpful information available with APCO's Prep tool in designing soft plastic that will /can be recycled effectively through the REDcycle program. 
Carol Lawrence, AIP president, says: "I was intrigued to hear from Anthony Peyton about a new scheme - Roll'n'Recycle-  that has been designed to allow single polymer stand-up pouches to be rolled up once discarded to become a 3D package that can be readily sorted in our existing Material Recovery Facilities. It will be rewarding to see brands adopt this label."
Liz Kasell (RED Group), Mark Jacobson (Replas) and Peter Tamblyn (Close the Loop) outlined the great initiative that has been undertaken with the recycling of soft plastics into useful items and the 2018 development of resurfacing over 100km of roads.
Close the Loop, partnering with the Downer Group, has made a totally new, innovative road surface. It lasts 65 per cent longer and is infinitely recyclable. Tto maintain a road they simply scrape it off, reprocess it, and lay it down again. Interestingly, when the road is hot the surface hardens unlike regular asphalt that melts.
And here's a great recycling fact: a kilometre of road (two lanes) contains approximately half-a-million recycled soft plastic bag equivalents, one hundred and sixty eight thousand glass bottles and twelve and half thousand tonnes of high grade polymer from toner cartridges.
The meeting was such a resounding success, the AIP has since announced it will be running a similar forum in Sydney on 17 July. Register here