Five million Australians are food insecure at any given time in a year, yet we throw away 7.3 million tonnes of food waste each year. OzHarvest is working to change this, as Queensland manager Amy Cobb told APPMA members at a dinner in Brisbane earlier this week.
While the 55 professionals from 22 APPMA member companies attending the dinner were undoubtedly aware of the food waste issue in broad terms, as Amy Cobb started delivering the data for Australia and Queensland specifically, you could have heard a pin drop in the room.
About a third of all food produced goes to waste somewhere along the supply chain – 7.3 million tons of it annually in Australia – with most of it ending up in landfill.
And here's a shocking sight courtesy of OzHarvest – pictured in Sydney Harbour, our food waste pile looks something like this, and of course only the tip of the 'iceberg' shows: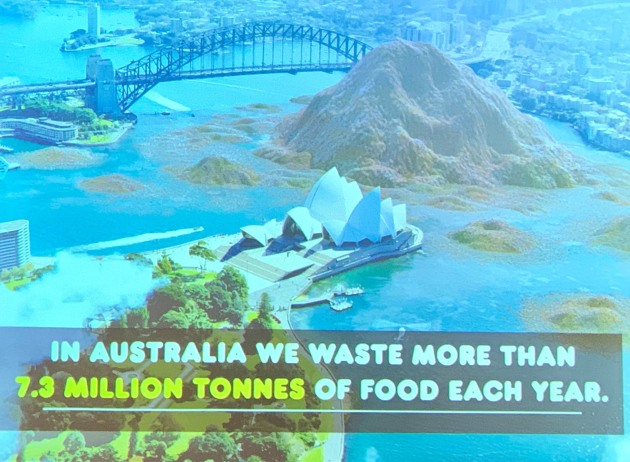 Cobb went on to say that the five million people who rely on food relief around Australia are from all walks of life, and up to a third of these are children.
The OzHarvest model, which involves the collection of food that would otherwise be wasted from retailers and food service outlets, and the delivery to charites that then create meals for the people in need, has been replicated in the UK, New Zealand, Thailand and South Africa.
In Queensland, OzHarvest provides about 23 million nourishing meals to those in need by rescuing 7.2 million kilograms of food from 1300 donors, and delivering these to 425 charities who supply the meals directly to their needy communities.
"Through education and engagement we have changed behaviour and shifted awareness around food security and sustainability," she said. "We've already achieved significant change, and that's what makes OzHarvest a leader in this space."
"We're excited by the many different opportunities that we have to build a sustainable food culture for the future," Cobb said, imploring the companies in the room, who work in the packaging supply chain, to spread the word.
According to Cobb, Woolworths is OzHarvest's main retail partner.
"We've had incredible growth from Woolies; they're really looking at how they can reduce their food waste footprint.
"Through our Food Rescue program, we take food that is close to its Best Before expiry date, but too close to get into the supermarket shelf. It is still good quality food, and we pick it up same day and get it to the charity that can convert it into a meal straight away."
Cobb said the biggest waste category is bread, because "everyone wants today's bread". She said there's enough bread waste for OzHarvest to be a bread delivery service alone, but it focuses on fresh produce, dairy products, and other good food that the charities need and can use immediately.
"Our Food Rescue model is powerful; it is an aggregator for really good change."
Cobb explained that most of OzHarvest's funding comes from philanthropy. It has recently received some support from Brisbane Council; BP covers all the fuel for its signature yellow vans.
Cobb went on to talk about the numerous educational programs the organisation runs; addressing the gap in food literacy in adults and children; and transformational programs that provide young people from disadvantaged backgrounds with training that leaves them with a certificate in kitchen operations or hospitality.
Another program is centred around educating young children in schools on food waste, sustainability, and food preparation.
"We're always looking for ways to do more with what we got, and what we don't got. We have the IP, the knowledge and the expertise to connect our community," Cobb said.
One exciting innovation Oz Harvest has developed is a food "dating" app, designed to connect charities with food donors. Tesco in the UK is one if the app's early adopters, according to Cobb.
"We vet the charity, we educate the donor, they then connect via the app," she said.
Cobb explained that recently one of the banks had donated services to quantify OzHarvest's social return on investment.
"The results showed that every dollar invested in OzHarvest equates to $6.75 in terms of redirected value to the community," she said.
She closed her presentation by talking about what APPMA members in the room could do to assist OzHarvest in its endeavours to fight food waste.
Apart from preventing food waste at home, she suggested members were well placed to have important conversations with producers, their customers.
"They may have products coming off the line that, due to a mislabeling error, or being underweight, for example, aren't fit for the supermarket shelf. Rather than throwing those out, they could call OzHarvest who would get the food into the right hands quickly," she said.
Other ways to see first hand what OzHarvest does include volunteering in a van, or bringing the team to the Cooking for a Cause experience in the OzHarvest kitchen.
Cobb said OzHarvest welcomed any new ideas for collaboration that may come from industry.
"We still have some heavy lifting to do, but we're excited about the impactful change we can bring about together," she said.