Drones for delivery, ecommerce packaging solutions, IoT-driven automation, cobots, digital printing and smart track-and-trace were among the stand-out trends at PACK EXPO Las Vegas.
Maneouvering one's way through crowded aisles and on to busy stands was order of the day for the 29,500 attendees at this year's PACK EXPO, which broke new records on both the visitor tally and the number of exhibitors (2000) spread across the 900,000 net square feet of the Las Vegas Convention Centre.
Australian companies and many of their principals were among the number, and the Australian Packaging and Processing Machinery Association (APPMA) also had a presence in show organiser PMMI's Partners Pavilion. APPMA once again supported the show's Amazing Race competition for students.
Australian company tna celebrated its 35th anniversary and launched the world's fastest high-speed case packer for flexible bags, the tna ropac 5, for the first time in North America (it debuted at interpack earlier this year). The machine was available for VIP viewing in a closed booth, where customers could see the workings of the 300 bag-per-minute side-load case packer using tna's patented semi-rotary bag stacking technology.
Group GM Michael Green told PKN the system is designed for speed and flexibility, with fast changeover capability meeting the trend for customised marketing by boutique brands, and catering to a market dominated by demand for high numbers of SKUs.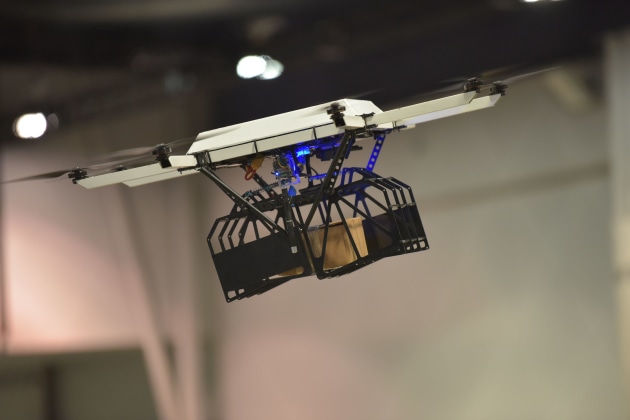 A star attraction at the event – not surprising given the growth in e-commerce –  was the interactive demo showing advances in drone-assisted parcel delivery. The high profile of drones at the show follows Amazon's recently published vision for beehive-shaped drone centres to be located in major US city centres.
Workhorse, a maker of electric delivery trucks and drones, worked with PMMI to bring the demo to the showfloor. The demo area was kitted with a scaled mock-up of houses with doorways and mailboxes. The Workhorse delivery drone took off from a stationary van and made deliveries to the houses on the stage set. On monitors alongside the demo, visitors were shown information available from the delivery van as well as live video from the drone's camera.
The idea is that the drone delivery works in tandem with regular delivery, to shorten driving routes. As the driver continues on a set route, the drone can go off to make a delivery in a less easy to access address, for example.The drone navigates automatically to the drop off point, and then locates the truck and return to its charging station on the truck's rooftop, to recharge for another mission.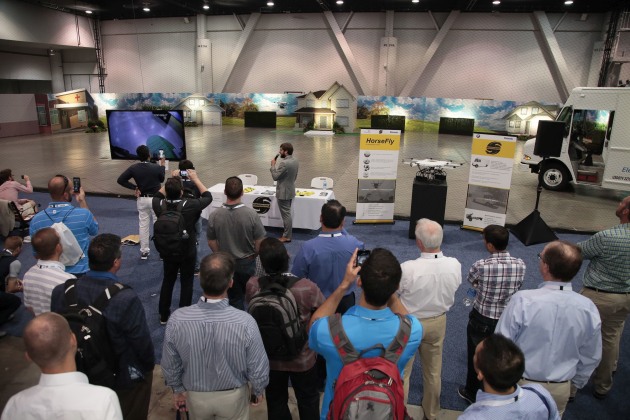 Ecommerce is also a promising market for Ecolean, the aseptic pouch specialist which is fast-expanding its global footprint and has recently set up office in Australia. Ecolean's MD for North America, Andreas Jeppsson, told PKN flexible pouches lend themselves particularly well to the online retail market, and he sees this as a growth point for Ecolean, whose unique full-service aseptic pouch packaging system (Ecolean supplies the packaging lines too) has found traction in Australia with  Bannister Downs Dairies, and another soon-to-be announced customer in New Zealand.
As pouches continue to be the fastest growing flexible packaging format, Ecolean's lighweight solution for chilled and ambient products, which has the added benefit of transferring the complexity of aseptic packaging from the producer production site to Ecolean ( the pouches come supplied  as fully-formed, pre-sterilised and hermetically sealed, ready for filling), should make some headway in the new markets it is targetting.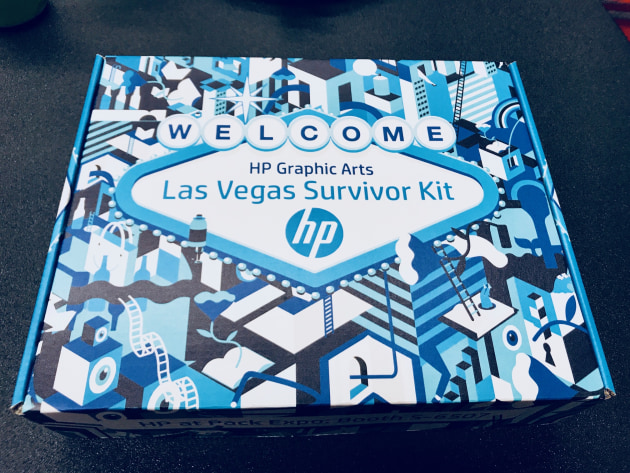 Also on trend was digital printing, so much so that PMMI has announced that its next PACK EXPO in Chicago in 2018, will house a dedicated digital printing pavilion. In this space, HP gave visitors insight into the widening scope of possibilities in digital print for corrugate. In a mini theatre on the stand, visitors watched a virtual reality demo of the capability of the new HP PageWide C500 press, a single pass solution for digital post-print production which made its world debut at PACK EXPO.
The HP PageWide C500 Press delivers consistent offset print quality for a wide range of corrugated applications on both coated and uncoated paper, along with post-print process simplicity and the versatility advantages of food-safe true water-based inks. All with the flexibility, accelerated time to market, and inventory benefits of digital printing.
Smart technologies for product monitoring and tracing were also widely in evidence at PACK EXPO. PKN stopped by the SpotSee stand to see the SpotBot BLE, jointly launched by SpotSee and Bosch Connected Devices and Solutions. The SpotBot BLE is a transport data logger that can be applied inside or to the outside of packaging and that measures and transmits impact, tilt, temperature and humidity through Bluetooth communication.
Tyson Stuelpe of SpotSee told PKN the SpotBot BLE is a cost-effective, simple and reliable way to bring transparency to the entire supply chain. The device operates using hardware and engineering support from Bosch that is connected and displayed through the SpotSee mobile application.
In the track and trace space, a very exciting announcement came from Videojet, which has teamed up with Applied DNA Sciences in the design of co-branded Applied DNA SigNature molecular-tagged Videojet inks, and a co-branded printer that electronically restricts the use of ink cartridges to only those that contain SigNature DNA inks. The relationship brings the potential to empower the tagging of countless commercial items, all of which are candidates for a CertainT licensing agreement, enabling traceability along the entire supply chain.
The initial offering utilises Videojet's newly released 1860 printer, which will be co-branded with Applied DNA, along with co-branded Videojet inks that will incorporate Applied DNA's unique SigNature molecular tag into each individual ink cartridge. The SigNature-enabled inks will be brand-specific, enabling each brand to tag, test and track their products from source to shelf under a CertainT platform. Gaining this additional traceability, transparency, and ultimately trust between value chain partners will allow brands to offer a new level of certainty to their customers that the products they are buying are authentic.
And finally (well, for this post on PACK EXPO anyway), one could not go far in the machinery halls without bumping into a cobot, a clear demonstration of the rise of robotics, and collaborative robotics in particular. One that caught our eye was ABB's YUMI, decked out in full casino mode.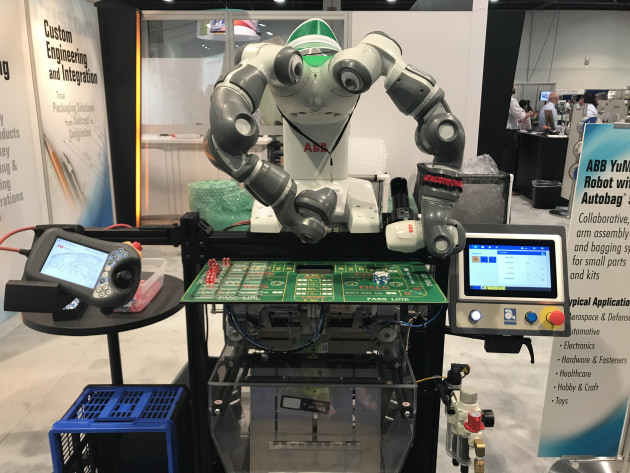 This article is just a taste of the innovation on show at PACK EXPO this year; PKN will publish an in-depth report of the show in our Nov-Dec print issue.