The thinking behind McDonald's McBike – packaging that hangs off the handlebars of a bicycle – is stated in its adfilm:

"The world is moving towards sustainable energy. People cherish and choose a healthier lifestyle."

The new packaging, by advertising agency Tribal Worldwide Buenos Aires, is expected to help the company increase sales, which have decreased in recent quarters.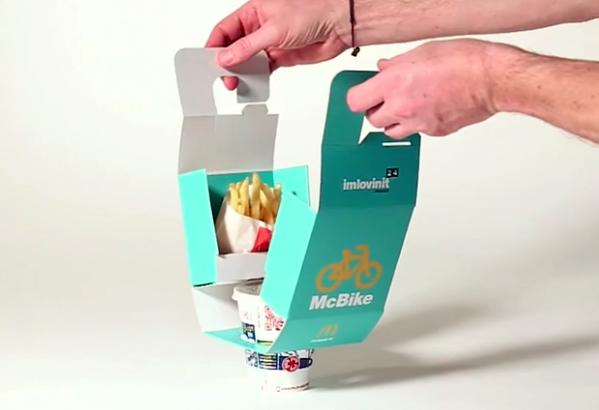 McDonald's is, in fact, undergoing something of a brand transformation globally. It's losing ground to fast food restaurant competitors such as Chipotle, whose fresher ingredients, somewhat healthier options and more 'hip' brand personalities are attracting its core audience of 20-somethings.
McBike is also an attempt to gain the loyalty of the next gen – or millennials.

Tribal Argentina CEO Walter Ioli agrees McDonald's is trying to reach a new segment.
"We found that the bike was one of the preferred means of transportation for millennials, so it was important for McDonald's to adapt to the new habits of its consumers," he said.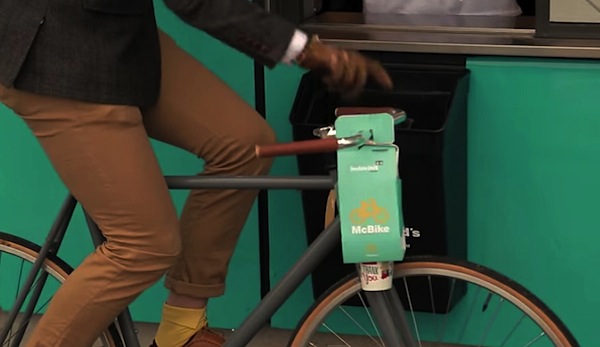 McBike packaging is made of recycled cardboard and is designed to carry a burger, fries, and drink. Once removed from bicycle handlebars, it may be unfolded to reveal two little pockets where the fries and burger have been cocooned in transit.

It is already available in bike-friendly Copenhagen in Denmark and Medellin in Colombia. McDonald's plans to launch the packaging in Amsterdam, the Netherlands, and Tokyo, Japan, in the near future.

McBike packaging is similar to that designed by Master's student Seulbi Kim from Rhode Island School of Design two years ago as a means to carry fast food more effectively and reduce fast food packaging by 50 per cent.

Her design has the same two-side pockets for the sandwich/burger and fries as well as a hole at the bottom for drink. The top of her packaging is different. While both bags come together to form a hook, McBike has an additional slit that allows the box to slide through handlebars.