The ANZPAC Plastics Pact has officially launched, uniting businesses, NGOs, and governments across the plastics supply chain behind a series of ambitious 2025 targets to eliminate plastic waste.
ANZPAC (Australia, New Zealand and Pacific Islands) has joined the Ellen MacArthur Foundation's global Plastics Pact Network, which is a globally aligned response to plastic waste and pollution. It unites over 550 member organisations behind the shared vision of a circular economy for plastic, where it never becomes a waste or pollution. 
The ANZPAC Plastics Pact has been a deal three years in the making, and members and supporters celebrated the official,  launch of the program at the Australian National Maritime Museum in Sydney on 18 May. The event drew a crowd in physical attendance, and some 200 participants online. 
The ANZPAC Plastics Pact, which will be administered by the Australian Packaging Covenant Organisation (APCO), represents the complete plastics supply chain – from leading brands, packaging manufacturers and retailers, to resource recovery leaders, government institutions and NGOs.
"This is a platform for creating a consolidated and cohesive approach for the entire plastics supply chain to work together on the important issue of taking plastic and making it circular," explained Brooke Donnelly, CEO of APCO.
"Here in Australia, just 18 per cent of the plastic we put on the market is successfully recovered for future use. We have a responsibility to be better at that and today's launch is an incredible step forward.
"And it is really important in this conversation to recognise that plastic as a resource isn't evil, but the way that we manage plastic at the end of its life is not very effective or efficient at the moment. We cannot be doing business like this moving forward."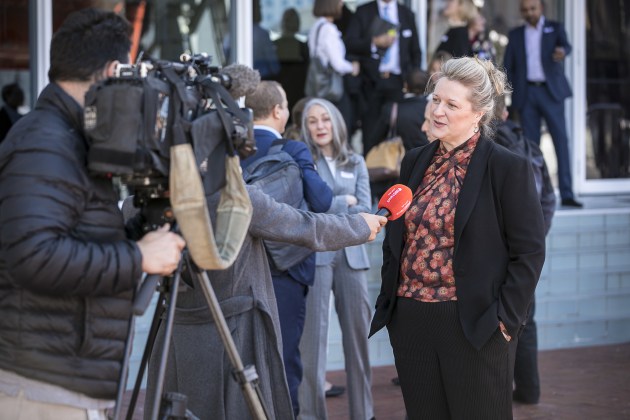 The ambitious new cross-regional program will work to fundamentally transform the country's response to plastic by eliminating unneeded plastics; innovating to ensure plastics we do need are reusable, recyclable, or compostable; and circulating the plastic we use, keeping it in the economy and out of the environment.
ANZPAC Plastics Pact members will work towards four clear, actionable targets by 2025, which consists of:
Eliminating unnecessary and problematic plastic packaging through redesign, innovation and alternative (reuse) delivery models;
100 per cent of plastic packaging to be reusable, recyclable or compostable packaging by 2025;
Increasing plastic packaging collected and effectively recycled by 25 per cent for each geography within the ANZPAC region; and
Having an average of 25 per cent recycled content in plastic packaging across the region.
The immediate next steps for the ANZPAC Plastics Pact program to achieve its 2025 goals is to develop a roadmap for action.
"The roadmap is really the first step of the ANZPAC network and its important that we all work together to get that clearly defined within the next 12 months so we can start to accelerate achieving our ambitious targets," Donnelly said. 
"We've already started to talk to benefactors and brands to secure their commitments for the use of recycled materials in their packaging format, which is fundamental in achieving a circular outcome.
"There's a lot of work to be done and the roadmap, along with the project development phase, is very much about working through what that path towards the circular economy will look like."
According to Trevor Evans, assistant minister for waste reduction and environmental management, there are few areas as complex and challenging as plastic waste here in Australia. 
"Which is why we're stepping up and taking significant action, both in terms of policy reform and significant record investments, to try to tackle these challenges head on," Evans said.
"Everyone has a role to play – from governments at all levels, households, small business and large, innovators, entrepreneurs, and community and environmental groups. Engagement, collaboration and cooperation are absolutely the key. 
"We live in a world with complicated supply chains, which is why it's important for regional approaches, such as the ANZPAC [Plastics Pact], are able to come to the fore with direct support and involvement to really make a difference." 
For more information, visit the ANZPAC Plastics Pact website here.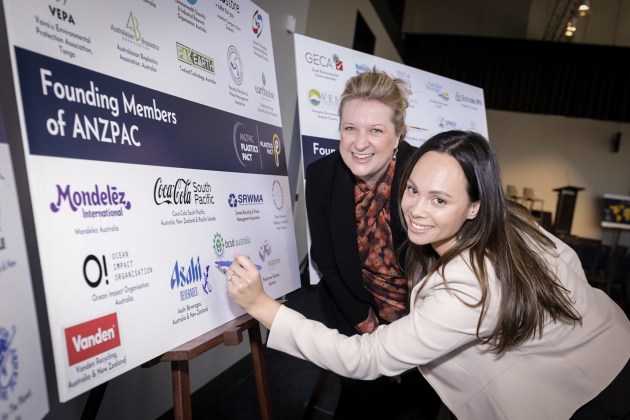 ANZPAC's founding members and supporters include:
ALDI
Amcor Flexibles
Arnott Biscuits 
Asahi Beverages 
Australian Beverages Council
Australian Bioplastics Association 
Australian Food and Grocery Council
Australian Institute of Packaging 
Business Council for Sustainable Development Australia   
Clean Up Australia
Coca-Cola South Pacific
Coles Group
Colgate Palmolive 
Commonwealth Scientific & Industrial Research Organisation 
Disruptive Packaging
Earthwise Group
ecostore Company
EGO Pharmaceuticals
Good Environmental Choice Australia
Keep New Zealand Beautiful Society Inc. 
KeepCup Pty
Klöckner Pentaplast Group (Linpac Packaging Australia) 
Mad World
Marine Plastic Solutions
Mettler Packaging
Mondelez Australia
Nestle Australia
OF Packaging
Ocean Impact Organisation 
PepsiCo Australia and New Zealand 
Piber Plastics Australia
Planet Ark Environmental Foundation 
Planet Protector Holdings 
Plastic Energy
Pledge for the Planet 
RecycleCorp Vanuatu PLC 
Samoa Recycling Waste Management Association 
Samoa Tourism Authority 
Sancell
Scholle IPN
Seaside Scavenge
Secretariat of the Pacific Regional Environment Programme
Solomon Islands Recycling Waste Management Association 
Stongim Bisnis 
Tacca Industries
TerraCycle Australia
The Better Packaging Co.
The Trustee for FX PRO ART TRUST 
TIPA-Corp
Twelve8 Technology
Unilever Australia
Vanuatu Beverage
Vanuatu Brewing
Vanuatu Environmental Science Society 
Vanuatu Recyclers and Waste Management Association 
Vava'u Environmental Protection Association
Veolia Environmental Services (Australia) 
Woolworths Group 
World Wide Fund for Nature