Australian snack company Vege Chips has pledged its official support of the nation's busiest wildlife hospital in the Gold Coast, the Currumbin Wildlife Hospital.
The partnership will not only include financial contributions from the company itself, but will drive community awareness and donations by including the hospital's information across its multipack range.
Vege Chips, a market leading producer of plant-based, gluten-free chips, estimates that if just one in five customers were to donate a gold coin equivalent, the partnership will raise approximately $235,000 in critical funds towards saving Australia's wildlife.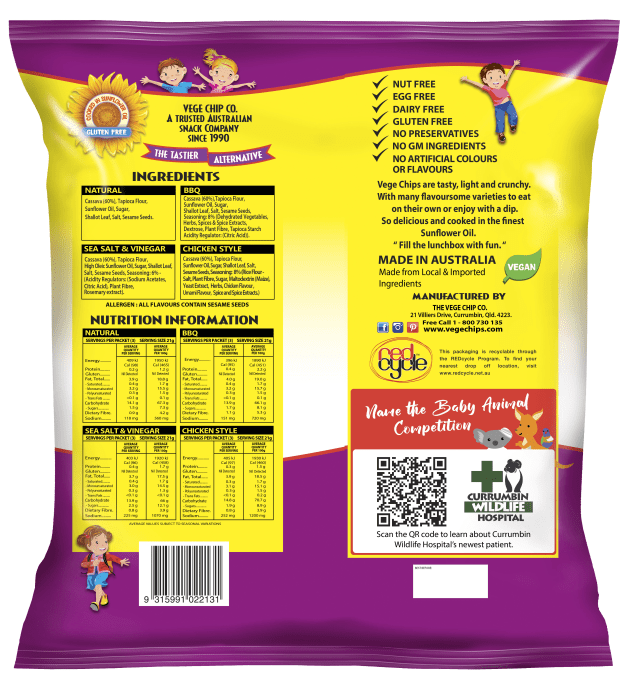 In its efforts to engage Australian households in saving the nation's native animals, Vege Chips will launch a competition to name various baby wildlife animal patients across the year, with winners to have their names immortalised on the 'Walkways for Wildlife' path at the Currumbin Wildlife Hospital.
The sponsorship offers Currumbin Wildlife Hospital unprecedented levels of exposure for their cause, and will enable the critical work for wildlife conservation in the area to continue.
Rob Crisfield, Vege Chips managing director, believes the sponsorship will be a natural extension to the brand's commitment to environmental conservation.
"We have been operating locally from our Currumbin factory since our inception more than 30 years ago, and we will continue to support local businesses, especially those who also have a passion and care for our beautiful environment and wildlife," says Crisfield.
"The Currumbin Wildlife Hospital provides a critical and lifesaving service for animals and we are proud to support such an institution in the community."
The Currumbin Wildlife Hospital opened its doors 32 years ago and has grown to be one of the busiest wildlife hospitals in the world, with 2020 being its busiest year on record. Admitting almost 14,000 animals in 2020, including almost 600 koalas in 2019, the hospital's mission is "to treat, rehabilitate and release sick, injured and orphaned native wildlife".
While the services are provided free of charge to the community, the hospital relies on community donations to continue its vital work. Seventy per cent of funding is dependent upon non-government resources – relying on the generosity of the public and corporations.
According to Dr Michael Pyne, Currumbin Wildlife Hospital senior vet, there have been more than 140,000 admissions in the hospital over the last 20 years and there's no signs of slowing down.
"The future of our native wildlife is at immense risk, so now is more important than ever to have the support of the community and organisations, such as Vege Chips, so we can continue our mission to treat, rehabilitate and release native wildlife," explains Pyne.
"It really is an honour to be working with Vege Chips. Our corporate partnership will provide fantastic national awareness and a financial contribution, which will make an immediate difference, as we rely heavily on community donations to continue our vital work.
"Vege Chips' commitment to wildlife will hopefully set an example for more Australian local companies to give back. We're deeply grateful and applaud their efforts to use the success of a wonderful product to save our Australian wildlife."
The new branded packaging is due to hit shelves in the coming weeks.