To celebrate its 100-year manufacturing milestone in Australia, Cadbury has teamed up with celebrity chef Curtis Stone to create the special-edition Cadbury Dairy Milk Curtis Stone's Caramel Slice block.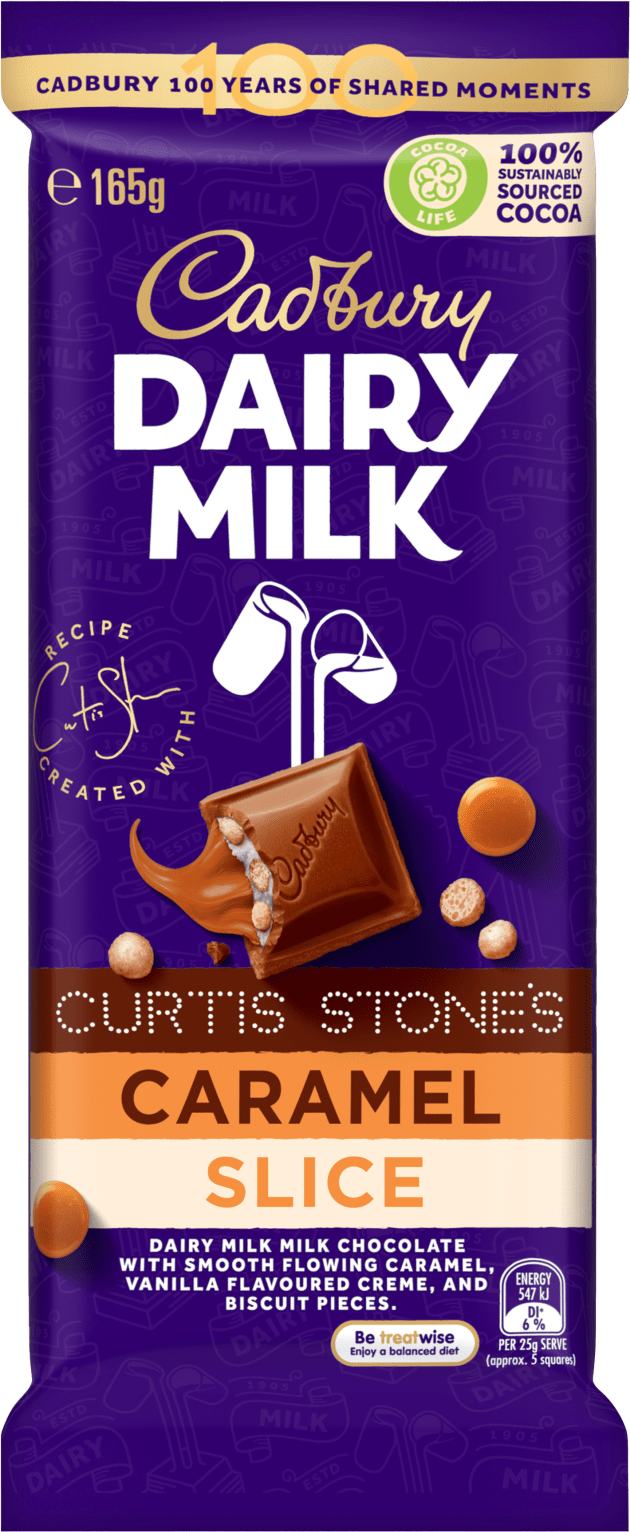 Creative agency Bulletproof designed the artwork for the chocolate block packs, which are made of clear to metallised white oriented polypropylene (OPP) material, printed and converted by Amcor. The flexible wrapper is recyclable through REDcycle. 
Bulletproof's design on front of pack resembles the layered structure of a caramel slice, with colour gradating from hues of chocolate brown to caramel orange and then cream.
"The design for the Curtis Stone Caramel Slice was all about heroing the iconic slice itself – it's something every Aussie knows through and through – three bold horizontal layers of crunchy biscuit, gooey caramel and all topped with Cadbury Chocolate. For us it was about showing that off in a simple, graphic way," said Matt Johnson, creative director at Bulletproof in Sydney. 
"It's an Aussie icon made by another Aussie icon: with a stamp of quality signed by Curtis himself – letting you know this isn't your run of the mill slice – this is a Curtis Stone Caramel Slice."
Caramel Slice, a recipe found within the pages of one of Curtis Stone's mother's cook books, was one of the first kitchen creations he has fond memories of making with his mum, and the inspiration behind the "delicious" new flavour.
The special-edition block is made from smooth and creamy Cadbury Dairy Milk milk chocolate, and layered with smooth flowing caramel, vanilla flavoured crème and biscuit pieces, to create "the nostalgic taste" of a homemade caramel slice.
"I'm really excited to be launching the Cadbury Dairy Milk Curtis Stone's Caramel Slice block at Coles which has been locally produced in the Cadbury chocolate factory in Tasmania," said Stone, adding how pleased he was to be on site to see the first production of "this delicious block of chocolate that Aussies are going to absolutely love".
Paul Chatfield, vice president, Marketing at Cadbury said, "With Cadbury celebrating 100 years in Australia, we wanted to commemorate the milestone with a bang, and we couldn't think of a better way than to partner with Curtis Stone. We're delighted to continue our incredible relationship with Coles and exclusively offer the special-edition block to the Australian retailer for their customers to experience."
"Together, we've created an iconic flavour that Australians will get excited about. Aussies love Cadbury, Curtis and Caramel Slice so it's sure to be a recipe for success."
Leanne White, Coles GM for Grocery says, "We are so excited that Coles and Cadbury, two companies which have been serving Aussies for over 100 years, can come together to celebrate this massive year for the chocolate manufacturer. We know that our Coles customers love new and delicious recipes especially when they are created by our very own Curtis Stone."
The new limited run 65g Cadbury Dairy Milk Curtis Stone's Caramel Slice block is only available at Coles supermarkets nationwide, with a recommended retail price of $5.00.