The Coca-Cola Company has unveiled its first prototype 100% plant-based plastic beverage bottle (excluding the cap and label) using next-generation technologies developed by collaborative partners and which are ready to scale commercially.
The new technology prototype bottle marks the most significant advancement in the commercial viability of bioplastics since The Coca-Cola Company introduced the first-generation technology in its PlantBottle packaging in 2009 as the world's first recyclable PET plastic bottle made with up to 30 per cent plant-based material.
A limited run of approximately 900 of the prototype bottles have been produced.
"We have been working with technology partners for many years to develop the right technologies to create a bottle with 100% plant-based content – aiming for the lowest possible carbon footprint – and it's exciting that we have reached a point where these technologies exist and can be scaled by participants in the value chain," said Nancy Quan, chief technical and innovation officer, The Coca‑Cola Company. 
PET, the world's most recycled plastic, comprises two molecules: approximately 30% monoethylene glycol (MEG) and 70% terephthalic acid (PTA). The original PlantBottle includes MEG from sugarcane, but the PTA has been from oil-based sources until now. PlantBottle packaging looks, functions and recycles like traditional PET but has a lighter footprint on the planet and its resources.
Coca-Cola's new prototype plant-based bottle is made from plant-based paraxylene (bPX) – using a new process by Virent – which has been converted to plant-based terephthalic acid (bPTA). As the first beverage packaging material resulting from bPX produced at demonstration scale, this new technology signals a "step-change in the commercial viability of the biomaterial". According to the company, the bPX for this bottle was produced using sugar from corn, though the process lends itself to flexibility in feedstock.
Collaboration and scaling
The second breakthrough technology, which The Coca-Cola Company co-owns with Changchun Meihe Science & Technology, streamlines the bMEG production process and also allows for flexibility in feedstock, meaning more types of renewable materials can be used. Typically, bMEG is produced by converting sugarcane or corn into bioethanol as an intermediate, which is subsequently converted to bioethylene glycol. Now, sugar sources can directly produce MEG, resulting in a simpler process.
"The inherent challenge with going through bioethanol is that you are competing with fuel," said Dana Breed, global R&D director, Packaging and Sustainability, The Coca-Cola Company. "We needed a next-generation MEG solution that addressed this challenge, but also one that could use second generation feedstock like forestry waste or agricultural byproducts. Our goal for plant-based PET is to use surplus agricultural products to minimise carbon footprint, so the combination of technologies brought by the partners for commercialisation is an ideal fit with this strategy."
First validated at demonstration scale in 2017, this combination of technologies will power a full-scale biorefinery currently being constructed by UPM in Leuna, Germany. UPM is the technology's first licensee, and this first-of-its kind biorefinery will produce plant-based monoethylene glycol (bMEG), plant-based monopropylene glycol (bMPG), as well as lignin-based Renewable Functional Fillers (RFF) made from 100 per cent certified hardwood taken from sawmill and other wood industry side-streams.
UPM's investment will enable a shift from fossil raw materials to renewable alternatives in a large number of consumer end uses. The biorefinery will ramp up production in 2023 with a total annual capacity of 220,000 tonnes. The products will have a significantly improved CO2 footprint and can be seamlessly integrated in existing material recovery and recycling streams while meeting product performance requirements.
"Investing in the biorefinery in Leuna is a very exciting breakthrough for UPM on our way to becoming a credible player in the chemistry value chain," said Juuso Konttinen, vice president, Biochemicals at UPM. "The biochemicals produced in Leuna will enable a true sustainability transformation in numerous consumer applications, providing a dramatically reduced CO2 footprint and replacing fossil raw materials with a renewable alternative: certified and sustainably sourced wood. The decision to commercialise the bMEG technology from The Coca-Cola Company and Meihe was taken after extensive validation and we are excited about the prospect of widely marketing our products based on [this] agreement with The Coca-Cola Company."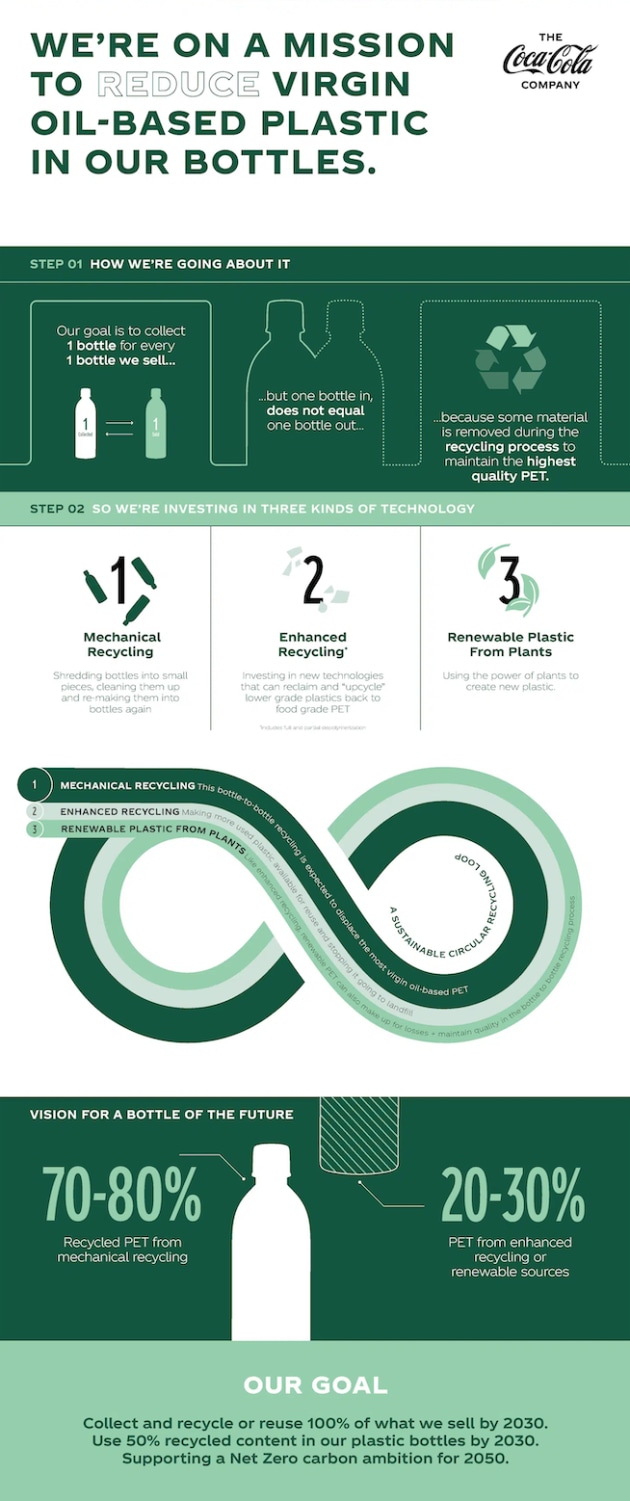 Setting plastic reduction goals for 2025
As part of its World Without Waste vision, Coca-Cola is working to make all its packaging more sustainable, including maximising use of recycled and renewable content while minimising use of virgin, fossil material. The company has pledged to collect back the equivalent of every bottle it sells by 2030, so none of its packaging ends up as waste and old bottles are recycled into new ones; to make 100% of its packaging recyclable; and to ensure 50% of its packaging comes from recycled material.
This innovation supports the World Without Waste vision, specifically the recently announced target to use 3 million tons less of virgin plastic from oil-based sources by 2025. The Coca‑Cola Company will pursue this 20% reduction by investing in new recycling technologies like enhanced recycling, packaging improvements such as light-weighting, alternative business models such as refillable, dispensed and fountain systems, as well as the development of new renewable materials.
In Europe and Japan, Coca-Cola, with its bottling partners, aims to eliminate the use of oil-based virgin PET from plastic bottles altogether by 2030, using only recycled or renewable materials. While most of the plastic packaging material will come from mechanically recycled content, some "virgin" material will still be needed to maintain quality standards. That's why Coca-Cola is investing in and driving innovation to boost the supply of feedstock from renewable technologies as well as from enhanced recycling technologies. Enhanced recycling "upcycles" previously used PET plastics of any quality to high quality, food grade PET.