Packaging and food businesses are making big donations to bushfire relief, with Visy's Anthony Pratt; Tetra Laval; Foodmach; Coca-Cola Amatil; and supermarkets Coles and Woolworths among those supporting the cause.
Pratt, owner of Visy and Australia's richest man, announced on Twitter that $1m would be donated through the Pratt Foundation to the Foundation for Rural and Regional Renewal "in support of the brave Australians battling the fires".
Tetra Laval, the parent company of Tetra Pak, is donating €350,000 ($566,000) to bushfire relief. Tetra Pak and DeLaval will work to coordinate aid and relief for affected areas through various support channels, with a portion of the funds going as a cash donation to the Red Cross; in addition, DeLaval will support dairy farmers as they recover, and Tetra Pak will work with Sanitarium and Slades Beverages to distribute water and milk products to NSW and Victorian bushfire victims.
Foodmach will support the Disaster Resilience and Recovery Fund through the FRRR (Foundation for Rural and Regional Renewal), and will match staff donations dollar for dollar. Earle Roberts, CEO, said the thoughts of the Foodmach team are with the victims.
"At a time like this, all Australians need to pull together. We take our responsibility to our regional communities seriously.
"We all need to pitch in to help solve the critical issues. Foodmach has invested heavily in solar power and has applied lean manufacturing principles to the entire organisation. Over the longer term, we will be taking actions to further reduce our carbon footprint," said Roberts.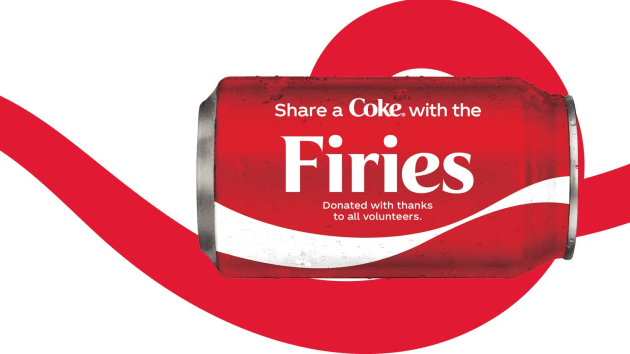 CCA, meanwhile, has donated 10,400 cases of water and Powerade – totalling at least 250,000 bottles – to bushfire emergency crews, and to families who are in disaster recovery centres or are being evacuated from NSW, SA, and Victorian fire zones.
This includes 3720 cases of water and Powerade to Foodbank; 2400 cases of water to the Australian Defence Force and air ambulance services; and 4320 cases of water to the Australian Navy in conducting evacuation operations. Its other donations include:
$1 million from The Coca-Cola Foundation for The Salvation Army's immediate disaster relief efforts in fire-affected communities;
$250,000 from Coca-Cola Australia for the NSW Rural Fire Service, the Country Fire Authority Victoria, and the South Australian Country Fire Service Foundation; and
Up to $375,000 from Coca-Cola Amatil in the form of employee matched giving to all registered charities, donated beverages and financial support for small business customers impacted in fire-affected zones.
According to Peter West, managing director of Coca-Cola Amatil Australia, businesses should do their part in helping out at a time of national crisis.
"Business has a role to play in emergency situations, alongside government and others in the community.
"Bottling and distribution are our strengths, so we think we can play an effective role with donations of water and other beverages to displaced families and those on the front line.
"Many of our own team are also volunteer firefighters and Defence Reserves, and we're looking after them with paid leave and personal support.
"Water donations and matched giving are a step forward, but there's more to be done. We'll continue working with governments and communities on further support as recovery operations roll out," said West.
The supermarket giants are also contributing, with Coles donating more than $3m in gift cards to 6000 rural fire brigades across Australia to stock up on essentials or host thank-you events for their members.
Steven Cain, CEO of Coles Group, said the donations were a way of acknowledging the courage and dedication of volunteer firefighters battling to save homes and communities.
"As fires continue to burn across the country, tens of thousands of firefighters across Australia are volunteering their time to keep our communities safe. Some are based in fire-affected areas while others are travelling across borders and to other regions to help protect communities away from home."
"With a long, hot summer ahead of us, we wanted to show our appreciation of the enormous contribution these firefighters have already made and will continue to make. We are so grateful for their bravery and commitment," he said.
Woolworths, as well, had raised more than $1.3m in partnership with the Salvation Army as of the end of December, and has given four weeks of paid leave to all staff members volunteering to fight fires. CEO Brad Banducci said this applies both to salaried staff, who already had uncapped paid leave for voluntary firefighting subject to approval after four weeks, and now to those on enterprise agreements, who have had their entitlement raised from two weeks.
"Against the backdrop of our busiest time of the year, a number of our team have been serving as volunteers in rural fire brigades across Australia.  
"In support of their community spirit, and with the inevitability of more challenges in the weeks and months ahead, we have made the decision to extend paid leave entitlements for our EA team members volunteering in the rural fire services," said Banducci.
On the printing industry side, the Print and Visual Communication Association has launched a bushfire information portal as a one-stop shop for all available help for print businesses impacted by the fires, and suppliers association Visual Connections says it stands ready to assist print businesses impacted by the fires and will help organise and cover the cost of bridging production to enable jobs to get out.