Sydney-based tube manufacturer Impact International has made another major step on its sustainability journey, launching a first-of-its-kind carbon-offset forest initiative in partnership with leading Australian brands.
With this move, Impact International becomes the first tube manufacturer in the world to offset the carbon emissions of the tubes the company manufactures through its own forestry infrastructure.
At the time of the launch, PKN spoke to Aleks Lajovic, Impact International managing director, who said, "Based on a standard extruded plastic tube that holds 100ml of product, the Impact International forest can offset the raw materials used to manufacture approximately 30 million 100ml tubes each year."
Lajovic said, "The Impact International forest is being used for wildlife protection and rehabilitation as well as to reducing the carbon footprint of our customers' packaging and supply chain.
"Customers who are participating in our sustainable forest program have access to the most sustainable tubes available in the world, plus are helping to protect native Australian wildlife."
Impact's forest – an agroforestry Pinus radiate plantation of 20,000 trees, plus 1300 Australian native trees – is located 40 minutes' drive from Canberra and 2 hours, 45 minutes from Impact International's Smithfield, NSW headquarters.
As a family owned and operated business that has been in Australia for 62 years, Impact International takes it environmental credentials seriously, Lajovic tells PKN. The company has a large solar farm, so the factory generates its own energy. Any energy that Impact International cannot generate is purchased and is carbon neutral. Tubes are also manufactured using sugar cane-derived plastic (a renewable resource) and recycled plastic, which is helping to tackle Australia's recycling crisis.
Impact International has partnered with ten of Australia's recognised brands for the launch of this world-first initiative: Bondi Sands, Natio, De Lorenzo Hair Care, Lovekins, Breeze Balm, Ultraceuticals, Chroma Australia, Pump Hair Care, tbh Skincare, and Soodox.
"The forest has been divided into 20 lots, with 10 lots are already allocated. This means we have room for more brands to join us in the forest," Lajovic said.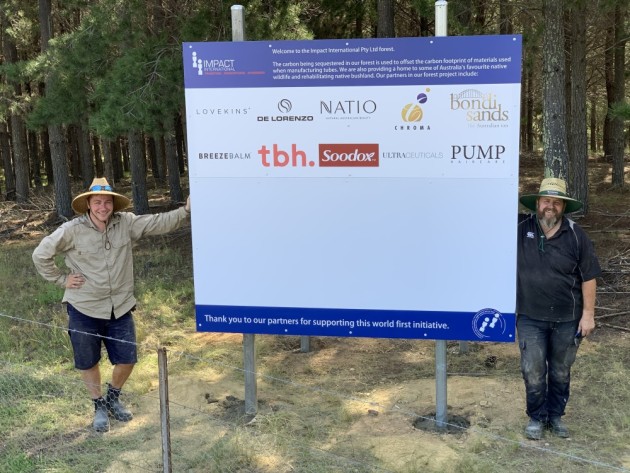 For Bondi Sands, this partnership was attractive because a key strategic focus for the future of its business is sustainability.
Bondi Sands' co-founder Blair James said, "We are sourcing alternative packaging materials to reduce our plastic usage, reducing and offsetting of our carbon footprint and driving internal sustainable practices. With this in mind, we felt this initiative was a clear alignment for our brand.
"This initiative isn't solely based on land investment and carbon footprint reduction, but instead looks at the bigger picture – protecting our native Australian wildlife and fauna, whilst also reducing the carbon footprint of our packaging. This innovative process goes hand-in-hand with our own innovative way of thinking and is one that we're proud to be a part of," he said.
Major skin care and cosmetic brand Natio is a long-time customer of Impact International, which supplies the majority of Natio's tubes across its large product portfolio.
Mahesh Ross, Natio managing director said, "The move towards sustainability is evident everywhere – it's in the media we consume, the industry news we are exposed to and certainly the feedback we receive from our distributors and customers.
"Individuals are more aware of how their actions impact their own carbon footprint than ever before, and they expect the same from their favourite brands. Customers often contact us to find out what we're doing in the sustainability space, or offer suggestions on recycling, packaging or ingredients," he said.
"As an Australian-owned and operated family business with a key focus on providing caring, gentle and naturally-based products, there is a perfect synergy between Natio and the Impact International Sustainable Forest Initiative," Ross said.
De Lorenzo Haircare marketing manager Bridget Bajada agrees that there's been a substantial uptick in consumer awareness around a brand's sustainability initiatives.
"There is certainly an increase in the number of consumers making decisions based on how sustainable your product is with an increase in the number of customer enquiries we receive in relation to this," Bajada said.
"As a company we are always proactive on reducing our footprint; the forest project is one way of being able to give back and offset what we consume.
"This aligns perfectly with our company as the De Lorenzo founders have always been committed to the ethical manufacturing of our products, which includes reducing our carbon footprint and caring for our environment.
"We have always been a vegan company from even before it was on trend as this respected nature. We are also currently changing our packaging over to as much recycled component as possible," she said.
For cosmetics brand Ultraceuticals Australia, Impact International's initiative coincides with the company's own journey to becoming more environmentally responsible.
"We're constantly looking at ways to support Australia's conservation, minimise our carbon footprint and help protect our valued flora and fauna that makes us quintessentially Australian," said marketing director Xuan Henderson.
"There is a strong and positive movement towards consumers becoming more aware and choosing brands that have adopted more environmentally sustainable practices, from source materials to choosing manufacturers that are aligned with this same value.
"This is certainly at the forefront of our minds with everything that we do, and we are thrilled to be part of this movement to minimise our footprint for Australia's cleaner future.
A key factor in the success of the project will be to raise consumer awareness and inspire other companies to follow suit. For all the partners, a combination of B2B and B2C channels will be employed to highlight this and sustainability initiatives.
"Hopefully, it will inspire other businesses to take a step forward in becoming environmentally responsible and embracing initiatives to help reduce our impact on the environment for the generations to come," Henderson said.
Bondi Sands' Blair James added: "We want to ensure we are educating our consumers on best practice in the sustainability space, so they too can make conscious changes to their lifestyles to better protect our planet."
Lajovic said he is extremely proud to partner with these brands, and to be at the helm of a company making so many progressive steps towards meeting its own sustainability targets. Lajovic is also confident that more Australian brands will join this world first initiative following the launch.