Kratf Heinz has revealed a new paperboard solution that will replace the plastic shrink-wrap currently used on its Heinz multipack canned products in the UK.
The PEFC-certified paperboard used in the new 'Heinz Eco-Friendly Sleeve' is recyclable and reportedly comes from renewable and sustainably managed forests.
According to Kraft Heinz, the wrap design uses 50 per cent less material than a fully enclosed wraparound box and 10 per cent less than a traditional paperboard sleeve design.
The company also reports that the manufacturing and transport of its new sleeve are carbon-neutral, and that it has a nearly 20 per cent lower CO2 footprint, compared to the equivalent shrink-wrap design.
"Our packaging innovation team continues to work hard to develop further sustainable solutions across our business as we make a £25 million investment over three years to implement the infrastructure needed to ensure this roll-out is a success, which will be a win for the environment, as well as shoppers across the UK," said Jojo de Noronha, Kraft Heinz's northern Europe president.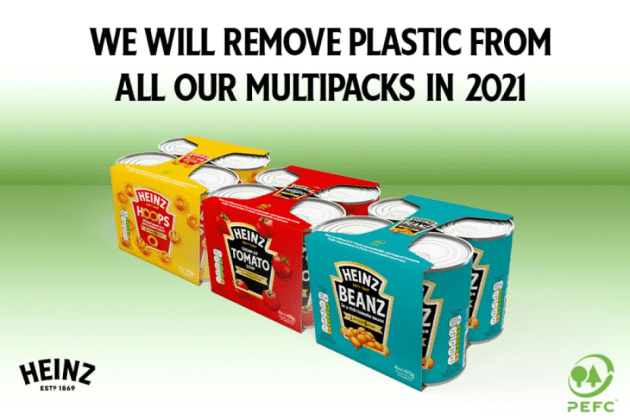 The latest development follows the recent announcement from Kraft Heinz in January last year that it was removing plastic shrink-wrap from multi-packs of Heinz Soup, Beanz, and pasta across Tesco stores in the UK.
Kraft Heinz also claims to have made its recyclable steel cans lighter over the years, through continued investment in the way in which they are designed.
The company is also working on broader sustainability initiatives, such as a partnership with waste-free online shop Loop to collect, clean and refill used Heinz Tomato Ketchup glass bottles.
"We will continue to explore new and innovative ways of working to reduce our environmental impact wherever possible, while always offering the same great value, and great taste, our consumers know and love," Naronha adds.
The updated pack is available now across the Heinz Soups range as part of the Winter Bundle on Heinz to Home and will be launching across all Heinz's canned products and major retailers in the UK in Autumn 2021.