In a matter of months, Landa's Nanographic presses unveiled at drupa last year will be installed at beta sites in Israel, Europe and the US.
It's taken fourteen years of nanotechnology research to finally deliver what promises to be a "paradigm shift in print economics" to quote Landa chairman Benny Landa.
At global print exhibition drupa 2016, Benny Landa said the show would be remembered as "the inflection point in the industry's transition from mechanical printing to digital". The new Nanographic presses unveiled at drupa – and now starting their global roll out – are set to play a major role in the digital-for-mainstream revolution.
Landa has just announced its final 2017 beta customer line-up, with three S10 presses rolling out from July to December.
Benny Landa comments: "I am thrilled that after many years of development, we are now reaching the milestone of delivering our first Landa Nanographic Printing Presses to customers. We are very proud that these industry leaders, and others who share their vision, have chosen to become our beta partners in this program."
So who are these forward-thinking beta partners and what was the reason for their buy in?
The first shipment of the Landa S10 Nanographic Printing Press will go to Graphica Bezalel, the award-winning Israel-based folding carton, packaging and label convertor, whose clients include big brands like Calvin Klein, Carlsberg, Nestlé, Coca-Cola and SodaStream.
Eyal Harpak, director of Graphica Bezalel, comments: "Nanography is the first technology to tempt us into the world of digital print. Until we saw what the Landa S10 could produce, we couldn't believe that any digital press could match offset print quality at the high-speeds required to open-up the medium-run folding carton market.
Landa and Graphica Bezalel will hold a customer event in September 2017, to demonstrate the Landa S10 in a customer production environment.
Next up, in November, will be Imagine!, a US-based leader of point-of-purchase solutions.
"We bought this press because of Benny Landa's track record in developing innovative, industry-changing technology," says Bob Lothenbach, founder at Imagine!.
"We don't usually chase technology trends, however, we believe in Nanography and want to be instrumental in the digital-for-mainstream revolution.
"Nanography is the first digital printing solution with the format sizes and speeds that will let us migrate our applications away from offset. The reduced setup costs and improved turnaround times will bring substantial growth to our business."

And in December 2017, Edelmann, the German-headquartered world leader of high-quality and innovative board and paper packaging solutions, will become the first European beta customer for the Landa S10 Nanographic Printing Press.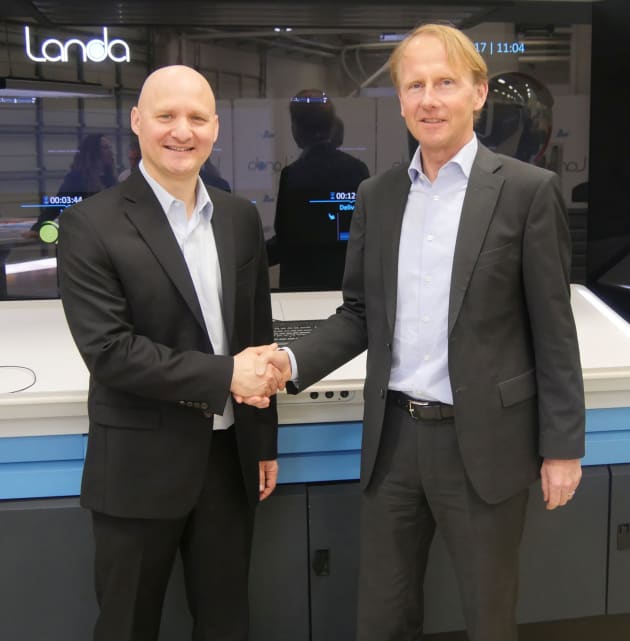 Specialising in packaging solutions for health care, beauty care and consumer brands, Edelmann has production plants in nine countries with sales exceeding 300 million euros. Producing 5.5 billion packages and leaflets per year, it is one of the world's leading packaging manufacturers and system suppliers.
Dierk Schröder, chairman of Edelmann (pictured above with Landa CEO, Yishai Amir) says: "Our business is all about customer service. Staying in tune with the market and delivering what it needs, but also anticipating, innovating and then proactively offering what it didn't know it needed. We're excited to be working with Landa; this is a value-based partnership that will drive long-lasting end customer relationships. What's more, Nanography is breakthrough technology with the potential to transform the print, packaging and communication markets."
"As promised, Landa press stability, print quality and speed are now consistently high. It's exciting to think that in only a matter of months we will see Nanographic print in the market, representing a paradigm shift in print economics and empowering brands like never before," concluded Benny Landa.