Augmented reality is one of the most exciting technologies to emerge in the intelligent packaging space, opening a world of possibilities to brand owners seeking to drive immersive consumer interaction with their products.
Along with other consumer engagement-enabling technologies like digital printing, augmented reality [AR] is being hailed as a dynamic marketing tool that is set to revolutionise the packaging industry.
AR encompasses the integration of digital information with the user's environment, in real time. The main difference between AR and virtual reality (VR) is that while VR involves creating a totally artificial environment, AR uses the existing environment and overlays new information on top of it.
As applied to brand packaging, this is how it typically works: The digital information is visible through mobile or tablet devices and is enabled by an an app, which allows the user to access and browse the digital interactive experiences.
The app (such as the AUSPACK AR app) is available to download on iOS and Android and works on most tablets. The user points the camera at the 'target' area on the pack, which can be printed logos, icons, pictures or the entire pack itself, and the app will scan automatically and activate the content immediately.
For brand designers and marketers, AR is a gateway to a new dimension in on-pack communication. It opens a world of content and rich experiential possibilities for consumers, because the information is no longer limited to what can be printed in the limited real-estate on the label or pack.
This highly engaging, multi sensory content can take myriad forms and serve multiple purposes.
On a basic level it can provide essential nutritional and allergy information, and by adding another layer of 'infotainment' the consumer can be shown actual videos of cooking demonstrations and recipe ideas, or be given instructions for how to use the product or about a special feature of the packaging.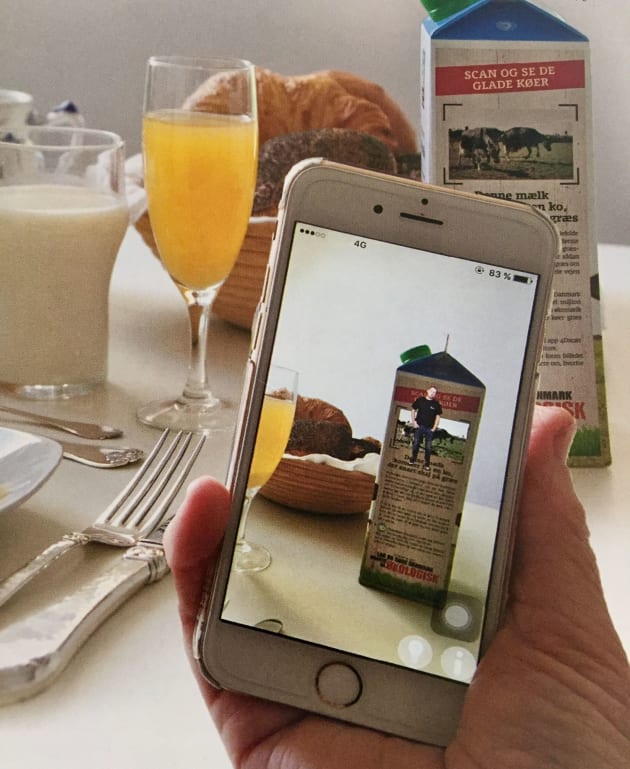 Norwegian liquid packaging specialist Elopak has partnered with Worth Keeping, provider of the 4DScan app which enables the integration of AR into Elopak's Pure-Pak carton. (Source: Elotalk No4, 2016)
Tapping in to topical consumer concerns, like product provenance for instance, an image of cows on a milk carton could open to footage of cows roaming a dairy farm where the milk in question was produced, and deliver a message from the farmer. Or free range egg claims could be similarly proven with a quick scan of the label on an egg carton.
AR technology uses any variation of dynamic audio visual content to impart information and tell brand stories for fully immersive experiences that enhance sensory brand perception. It is also a fantastic platform to engage consumers on the social platforms such as YouTube, Facebook and Instagram
As today's shopping experience grows increasingly interactive, and the consumer's relationship with their smartphone deepens, smartphone integration into the product experience is an obvious way for brands to engage consumers.
Big brand owners like McDonald's, Nestle, Mars and Mondelez among the growing number making use of AR.
By turning the package into a multidimensional communication vehicle, AR technology offers almost unlimited creative and value-adding scope, and is changing how consumers interact, use and think about products.
The beauty of AR for brand owners is that it's a flexible platform, allowing for frequent changes of content without any change in packaging design – a cost- and resource-efficient way of driving sales.
It's all GO for AR
The phenomenal success of AR game Pokemon Go in 2016 was a clear demonstration of how open the consumer is to an interactive, 3D experience. As reported in PKN's sister publication AdNews, not only did the Nintendo-owned Pokemon Go create global chatter, but a whole economy spawned off the back of it as brands and local businesses snapped up Lures to entice gamers. Retailers like Woolworths benefiited from lures being set up in stores.

Indeed, AR has been tipped by marketing gurus as a trend to watch in 2017, especially as the price of 3D viewing devices continues to come down. Shifting your content into the third dimension is certainly a way of reaching more people. But there's a cautionary note: consumers will soon grow tired of 'gimmicky' content, and content marketers need to be mindful about using this technology to tell meaningful stories.
This feature was written on behalf of AUSPACK by Yaffa Media Custom Content.