Close the Loop, a division of ASX-listed Close the Loop Group, has partnered with Myer to conduct an eight-week trial to recycle and reuse cosmetics packaging, with guidance provided by peak industry body Accord.
With support from the Australian government's National Product Stewardship Investment Fund, and with the trial period ending 16 September, it will research ways of recycling cosmetics to reduce the estimated 5000-11,500 tonnes of cosmetic packaging currently being sent to landfill in the country each year.
Following the example set by MAC Cosmetics, who've had a long-standing and ongoing partnership with Close the Loop through its Back to MAC program, consumers will now be able to take their used cosmetic items from any brand to collection points in 12 participating Myer stores.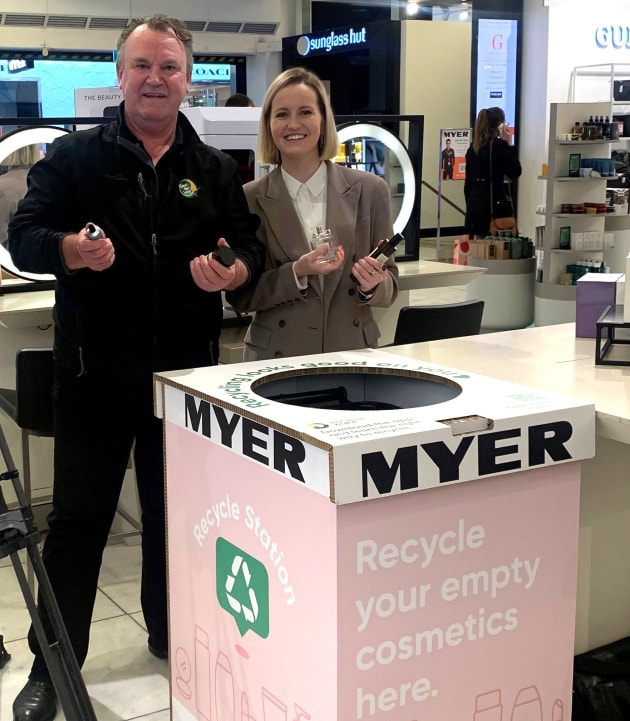 "We chose Myer as they are a well-respected retailer, they stock a large range of different cosmetic brands, we saw Myer as a good strategic fit to be able to collect a wide range of items, and they were also looking for an opportunity to broaden their sustainability efforts with cosmetics," Elsie Fulton, project manager at Close the Loop, told PKN.
"We want to collect as many cosmetics items as possible during the eight week trial period, so that we can research and test new ways of recycling to achieve higher value end products, while testing the feasibility of a cosmetics stewardship scheme by analysing the overall effort and cost.
"We will then be presenting the outcomes and findings to industry leaders so that we can articulate the current complexities of cosmetics waste, and identify opportunities to improve circularity for the industry as a whole, while discussing the opportunities for a potential future state cosmetics product stewardships scheme."
The trial will inform the feasibility of any future ongoing product stewardship schemes for cosmetics. Products collected during the program will be sorted into eight categories, and processed by Close the Loop to be recycled or remanufactured into new products.
Speaking to PKN on the latest development, Steve Morriss, founder of Close the Loop, said that although there's still a fair bit of work to be done, the entire team is "very excited" about the trial's prospect to, for the first time in Australia, "truly characterise the complex waste stream that is cosmetics waste".
"We are conducting this trial to help us provide meaningful information to the cosmetics industry, in order to properly engage all stakeholders to come up with a long-term circular solution to this waste stream," he said.
"One of the key aspects of product stewardship and the circular economy is design, and moving on from this trial we will be looking at opportunities to influence better design for these cosmetics products, and making sure that, moving forward, they are all designed with end-of-life and sustainability in mind.
"We all have a shared responsibility to make this industry more sustainable and circular, and ultimately, being able to sit down and work with all stakeholders involved – from the manufacturer, through to retailers and end-users, to the resource recovery companies assigned to collect the materials – is key to truly creating a circular economy."
Hard and soft plastics will be shredded and used in Close the Loop's TonerPlas asphalt additive, as well as in the company's Resin8 concrete additive.
Metals will be separated and sent to a metals recycling facility, and glass will be crushed for use as a sand replacement in building materials for the construction industry. 
Materials that cannot be processed will be used to fire a low-carbon emissions cement kiln, ensuring that no products collected will be sent to landfill.
"Cosmetics packaging is traditionally a complex waste stream – often including plastics, glass, metals, foils, rubber, natural fibres, mirrors, foam, paper and residual products," explained Joe Foster, Close the Loop Group CEO.
"It is a great example of what can be achieved when all stakeholders work together to enable end-of-life products to be efficiently collected, and then recycled or remanufactured into other products. A true circular economy in action." 
The program will serve as a key example of the Australian government's updated Australian product stewardship framework to encourage or require manufacturers, importers, distributors, designers and others to take responsibility for products over their lifecycle.
"As the only ASX-listed company operating in all parts of the circular economy, we have extensive experience in partnering with industry to create sustainable solutions and takeback programs, such as our global Cartridges for Planet Ark scheme," Foster added. 
"The launch of the trial is a very timely given the Australian government's second round of plastics export bans has just come into effect, meaning it is now illegal for companies and organisations in Australia to export any mixed waste plastics.
"It is expected to result in even more recyclable materials being sent to landfill every year unless product stewardship and industry-led initiatives like this are quickly implemented."
Participating locations can be found here, or through the Recycle Mate app.